Baby Lock sergers are completely different from the basic serger machines and create seams that have a professional touch. Though these machines are fairly new in the market, today, they are trendy among the masses.
Baby Lock sergers are especially a great deal when you often work with knits. Knit garments usually stretch when you use them too much. Hence, this is where the overlook stitch works best.
The stitch is flexible enough to keep your garments intact. It allows you to stretch and move with ease. Also, a baby lock serger machine offers professional quality results that can not usually be seen in home-based machines.
How to Choose a Baby Lock Serger?
If you plan to buy a Baby Lock Serger machine, this guide will help you choose the right one.
#1. Keep Your Options Open
When you plan on buying a machine, each one of us has our preferences. What we may like, others may not, and vice versa. Hence, it is best to try out the different Baby Lock Serger machines and find out what works best for you.
#2. Purchase From an Authorized Dealer
You might find some of the amazing deals on Amazon with huge discounts. However, do not fall into the trap of purchasing a Baby Lock Serger machine online. These products may not include a warranty or offer other services that you may require.
#3. Try and Test
When you plan on getting a Serger machine, get your fabric to the store and try different stitches with it. This will give you a clear idea of how the machine works with every fabric you plan to use.
#4. Additional Accessories
Have a look at the included accessories that come along with any Serger machine. You can make the process simpler for yourself and write down a list of the accessories that you would like. To use the machine to its full potential, it is crucial to know the accessories that come with your product.
#5. Stitch Availability
A majority of the serger machines have a good number of stitches available. Hence, have a look at how many stitches are available in the serger machine. Many models can sew up to 5 threads at a time. Get a clear idea of these details so that you can choose better.
14 Baby Lock Serger Review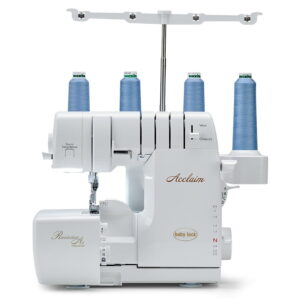 The Baby Lock Acclaim is an excellent serger machine that features the RevolutionAir Threading. With this machine, you can thread loopers and needles just with a single button touch.
Make creative and unique designs with this Baby Lock Acclaim machine. It has numerous features that we shall now have a look at. The RevolutionAir Needle Threading is an advanced feature that easily threads your needles just with a button. Similarly, the RevolutionAir Looper Threading feature avoids any breakage or knots.
This makes the machine simpler and easier to use. The machine also has 3 bright LED lights that allow you to focus clearly. It offers a stitching speed of 1,050 stitches per minute with an adjustable foot presser dial.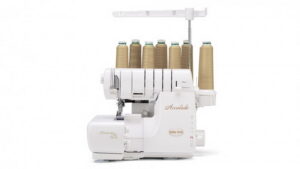 Create interesting patterns and designs with up to 8 threads at a time. Also, experience the best of serging with this Baby Lock Accolade machine.
The serger machine is quite lightweight compared to the rest on the list, with 21lbs. It also features 3 LED lights that illuminate your working area.
With the machine offering a total of 87 stitches, it has a maximum stitch length of 4mm and stitches width of 7.5mm. The machine also features a built-in thread cutter along with an accessory storage space.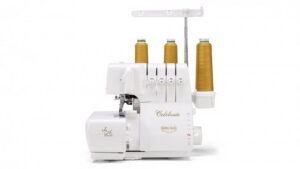 The Baby Lock Celebrate machine is an easy-to-use model with effortless stitching. It features adjustable manual tensions and gives your work a clean finish.
This serger machine has a Jet Air Threading that allows easy operation. Furthermore, the needle threading system simplifies your process just with the touch of a button. Similarly, the Micromatic Twin Cam Tension System eliminates any thread tangles.
The machine has one bright LED light for you to see clearly while you work. It has a stitching speed of 1500 stitches per minute along with a Presser foot pressure adjustment.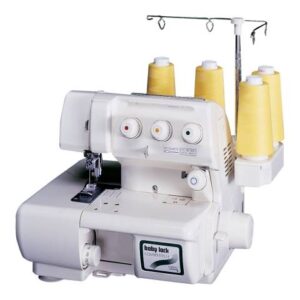 The Baby Lock Cover Stitch machine is a suitable one for home businesses or shops too. This can be the best alternative to stitch decorative home items and garments.
There are different stitch types available in the machine, which includes wide cover stitch, triple cover stitch, chain stitch, and narrow cover stitch.
This Baby Lock Cover Stitch comes with other features like adjustable tension knobs, thread cutter, exclusive jet-air threading, accessory storage, with an impressive warranty.
#5. Baby Lock Diana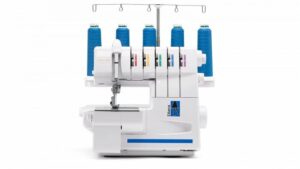 If you are looking for a reliable serger machine, then the Baby Lock Diana is the best you can get. Secure every design and pattern like no other.
Also, create interesting pieces of art that will leave everyone to amaze. This is another lightweight serger machine that weighs just 19.5 lbs. It features a snap-on presser foot type with an automatic tension system.
The machine has an included accessory storage space. Besides, you can use 5 threads at a time for creating masterpieces.
#6. Baby Lock Eclipse DX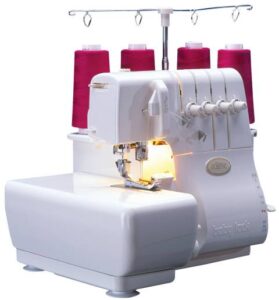 This is another feature-rich serger machine that is packed with many specifications for the user. It features an Exclusive Baby Lock Jet Air Threading that allows you to operate the machine with a single touch.
Say goodbye to thread struggles. It also features a dial-adjustable stitch length with an automatic rolled hem. Now easily adjust the length size with just a dial.
Additionally, other features include a full-featured differential feed, 4/3/2/1 thread serging, and fabric support system.
#7. Baby Lock Evolution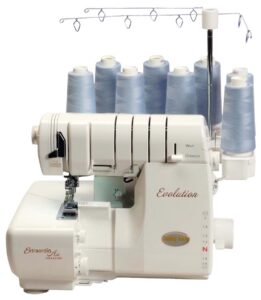 This machine is an advanced version that has an 8 thread set up. Besides, it also features ExtraordinAir Threading that allows you to loop your thread all at once. This makes the machine faster and your work simpler.
Furthermore, the Automatic Thread Delivery System enables a balanced stitch on any fabric type you choose to work on. It has a stitching speed of 1500 stitches per minute with a built-in thread cutter.
Other interesting features include electric foot control, built-in accessory storage, a side thread cutter, and so much more.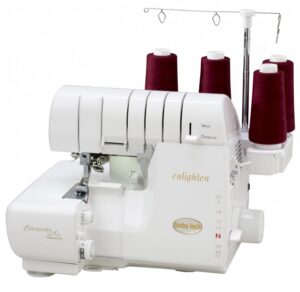 The Baby Lock Enlighten machine is a powerful one with some interesting features.
Some of the machine features include Built-in Thread Cutter, Heavy-duty cutting system, Automatic Thread Delivery, ExtraordinAir Threading, Automatic Rolled Hem Stitch, Overlock Stitch Functions, Flatlock Stitch Functions, and many more.
Experience a different side to serging with this superior built machine. Furthermore, the machine has a silent operation with user-friendly features.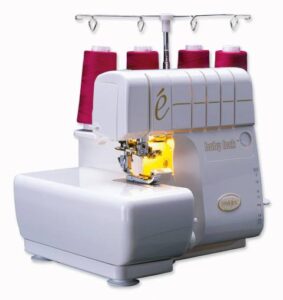 If you wish to have an uncomplicated serging experience, then the Baby Lock Imagine will best cater to your needs. Use any kinds of fabrics and get the same results for all of them.
This machine's key features include Exclusive Baby Lock Jet Air Threading, Automatic Thread Delivery System, Looper Drive System, Tubular Loops, Advanced Knife Driving, and numerous others.
It has a built-in needle threader with a 1500 stitching speed. Lastly, the machine weighs only 16 pounds.
#10. Baby Lock Lauren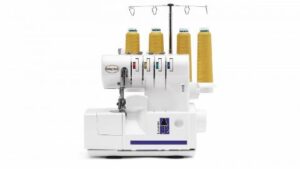 The Baby Lock Lauren is a versatile machine that gives you professional quality stitches every time. Give your projects a finished look with the superior performance of this device.
The key features include a Differential Feed, 4/3/2 Thread Serging, Easy Colour Coded Threading, and a Free Arm Serging. If you face any difficulties with any operation, you can refer to the instructional DVD included with the product.
Let your creativity run wild and explore opportunities with this machine. Make the best use of the features and create interesting works of art.
#11. Baby Lock Ovation Serger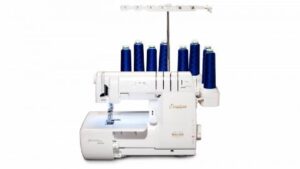 Experience the best of workspace with this Baby Lock Ovation machine. It has some of the advanced features as compared to other machines.
It features 6 bright LED lights and a knee lift. At the same time, you also get to work with 87 stitch combinations. Furthermore, you get the largest throat space with the ExtraordinAir Threading feature.
You can work with 2 to 8 thread serging. Besides, it also has Automatic Thread Delivery with 1500 stitches per minute.
#12. Baby Lock Triumph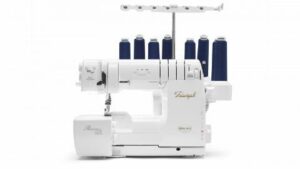 Say goodbye to serging troubles with the Baby Lock Triumph machine. Give time to your creativity, and stop worrying about setting up the machine.
The Baby Lock Triumph machine has RevolutionAir Looper Threading, RevolutionAir Needle Threading with Automatic Thread Delivery.
It also offers 1500 stitches per minute with a snap-on multi-purpose presser foot, electronic foot control, and an advanced cutting system.
#13. Baby Lock Vibrant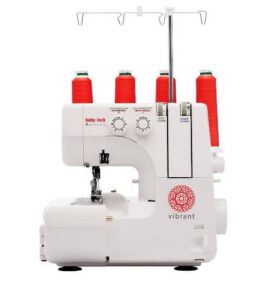 This powerful machine, Baby Lock Vibrant, is another interesting machine with multiple features.
This machine's key features include 4/3/2 thread serging, Retractable Thread Cutter, Easy Colour Coded Threading, Differential Feed, Lay-In Tensions with a 25-year limited warranty.
Multiple accessories come with the product. They are lint brush, needle set, oiler, replaceable blade, stitch finger, etc.
#14. Baby Lock Victory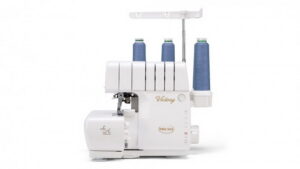 The Baby Lock Victory Serger Machine is a power-packed device with advanced features.
Some of the machine's amazing features include Automatic Thread Delivery, Needle Threading System, Jet – Air Threading, Tubular Loopers, Adjustable Presser Foot with 2 LED lights.
It also features a fabric support system, automatically rolled hem, and vertical needle penetration.
Conclusion
We have discussed an in-depth detail of the Baby Lock Serger Range of machines. Each of these machines has its specifications and advantages. However, only you can make the best choice for your needs. We hope this guide helps you get the best machine in your hands.