Janome Memory Craft 6600 is a sewing and quilting machine that offers high-quality service in speed and precision. It is robust to make and superior in performance. The model can easily handle many kinds of works, including quilting, patch stitching, and appliqueing, apart from normal sewing. The machine offers many attractive features that make it suitable for professional use, although not for industries.
It is a semi-industrial flat-bed machine that imbibes many automatic units like an automatic needle threader, dedicated automatic bobbin winder, and automatic thread cutter.
It is featured with numerous kinds of stitches and offers its customization with the aid of alphanumeric fonts. This machine supports 7 types of one-step buttonhole styles, is provided with twin needle guards, and imbibes an Acu-Feed system.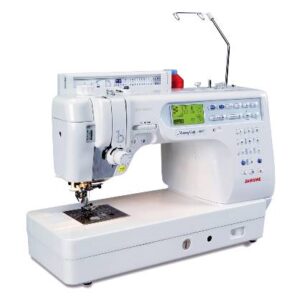 All its controls are adjustable with simple actions like pushing a lever or pressing a button. Knee lifts, speed controller, stitch selector, mode buttons, and numerical touchpads provide you intuitive but comprehensive control over your moves.
Janome Memory Craft 6600 imbibes two LEDs to lit the workspace area. There is a backlit LCD panel that displays information on the stitch type selected, presser foot in use, speed of the machine, and others. The machine is fitted with 5 memory banks to archive the information about customized stitch types.
You can even use the help button to discover more about the machine and its characteristics whenever necessary. It has a start/stop button to control the machine and a needle position specifier to set the needle to the desired position.
The model is fitted with different presser foot types specially meant to aid in blind hemming, overcasting, buttonholing, over edging, satin stitching, cording, rolled hemming, ¼ inch-seaming, darning, basting, and dual feeding.
Besides these, the machine is provided with many accessories, including needles, bobbins, fabric guide, seam ripper, screwdrivers, quilting bar, and an extension table.
Even an instruction manual describes every aspect of the machine, right from setting up to troubleshooting in detail.
These features make Janome MC6000 ideal for projects varying over a broad domain, including quilting, darning, appliqueing, home furnishing, and surface embellishing.
Furthermore, it can handle many kinds of clothes, including silk, velvet, rayon, polyester, cotton, wool, twill, canvas, linen, upholstery, knits, stretch, and denim.
Janome Memory Craft 6600 is a machine that demands low maintenance. You will just be required to clean its feed dogs and loopers after each use and wipe off the headcover once-in-a-while.
Despite all these positive aspects, the machine is not void of cons. It lacks the free arm, occupies a significantly large footprint, does not have an automatic tension adjuster, is heavier, and thus not portable.
Who Is the Janome Memory Craft 6600 Professional Sewing Machine For?
Janome Memory Craft 6600 Professional is a powerful machine that imbibes most of the qualities expected from professional sewing and quilting equipment. It provides a large workspace that makes it a good fit for professional quilters dealing with big-sized quilts.
The machine offers user-friendly, easy-to-control features that are often expected by experienced sewers. This makes Janome MC6600 meet the experts' demands to save time and effort, especially while dealing with time-constrained heavy-duty works.
The statement made is further proven as the machine equips many automated controls and customizable options. All these features make Janome outfits perfectly sewed and adorably decorated.
This increases the aesthetic appearance of the finished fabric, giving a sense of satisfaction to its creator.
So, if you are looking for great finished products that would increase your professional value, then Janome Memory Craft 6600 is for you!
Features of Janome MC6600
Janome MC6600 is a well-fitted model that offers many desirable features at a reasonable price. Its basic features mostly encountered in similar competitor models include:
The machine is fitted with a start/stop button that provides you hand-oriented control over the machine. This helps to easily control the machine operation by relaxing your foot pedal while working for long.
This Janome model is a large arm sewing machine that provides a large work area of around 9 × 5 inches. Nevertheless, the make is ergonomic and thus is convenient to be used for large projects.
Automatic Needle Threader
Janome Memory Craft 6600 can pull the thread through its needle eye within seconds. This ensures you quick completion of your work while remaining free from eye strain and finger stabbing.
The machine is fitted with an automatic system that cuts the thread of both needle and the bobbin in one-go. This ensures quick and precise action with minimal effort, saving considerable time and effort.
Janome MC6600 is featured with a needle positioner that can either be set to up/down position. This gives you better control over your stitch patterns and style, irrespective of the fabric material.
The machine is fitted with a drop-in bobbin system, which feeds the thread evenly through the needle. The optimal stitch tension ensures superior quality stitches all through the design pattern.
Janome Memory Craft 6600 is equipped with an automatic bobbin winder that helps in the easy winding of the thread. Bobbin winder operates on a separate motor that enables thread winding right while sewing, saving huge time.
There are two LEDs fitted around the needle area to spread light over the workspace. These aids clearly view the sewed pattern on the dark fabrics, even in an environment that lacks optimal lighting.
The machine is fitted with a backlit LCD panel that has adequate contrast levels to assure clear vision. Nonetheless, there is even a dial provided through which you can adjust the brightness of this display.
Besides these features, Janome Memory Craft 6600 imbibes many unique characteristics that give it a special place amongst other similar sewing and quilting machines. These are:
#1. The Accu-Feed System
Sewing and quilting expect precise alignment between the layers of fabric, avoiding any sliding kind of actions. Janome MC6600 is equipped with a dedicated special unit called the Acu-Feed system to help you achieve this easily.
This is a seven-point feed dog mechanism that guides multiple layers of the fabric evenly under the needle.
It ensures simultaneous sewing of all the cloth layers, failing which the lower layer moves faster than the upper one.
The result of this modern innovative feature will be reflected as perfectly sewed, quality finished fabric, may it be the quilts or the throws.
#2. Knee Lifter
A knee lifter is an extra hand that aids you to lift your foot without taking your hands off from the material being sewed. In a machine with a knee lifter, you are just required to push your knee against the lever to lift the foot.
The arrangement gains the utmost importance in the scenarios where you need to attach an elastic and/or ribbon to the cloth material.
Knee lift makes turning around the corners easy as you can use both of your hands to orient the fabric while simultaneously raising or lowering the foot.
It is crucial for large projects characterized by long and repetitive seams and, at times, when you are asked to deliver the quilt at your desk as early as possible.
#3. Quilting Manual
Janome Memory Craft 6600 is supplied with an instruction manual that greatly aids in its hassle-free usage. It includes all information on set-up, deployment, and maintenance.
It describes all machine controls and attachments in clear detail. The step-by-step procedure explained in simple words impart the manual an intuitive nature.
Besides these, the instruction manual even discusses the troubleshooting mechanisms that help you overcome difficult-to-handle situations, including errors and warnings displayed on the LCD.
Furthermore, there are even instructions and suggestions to extend the machine's life while ensuring optimal and superior performance.
#4. Extended Table
The extension table increases the workspace area to facilitate working on the projects that require the handling of large-sized fabric.
Janome MC6600 machine comes with a large extension table that can be used in a cabinet or with a quilting frame.
Measuring around 6 cm and 4 cm in length and width, respectively, this add-on is great when you have a requirement to work on big quilts.
Additional space provided by the table helps to move, roll-on, and turn the fabric without trouble.
#5. Stitch Editing
Janome MC 6600 offers you a wide variety of in-built stitch patterns that can be sewed at a maximum speed of 1000 stitches per minute.
There are around 400 different kinds of stitches categorized into three groups: utility, photography, and decorative.
As shown on the reference guide, any of these can be selected by setting the machine to the number associated with them.
The mode selection button is located on the machine's right side, and the numerical touchpad is very intuitive.
In this machine, you can combine more than one stitch to create new stitch patterns. These can be edited right on-the-screen either on a one-to-one or combinational basis and stored in the memory banks to be recalled whenever required.
They can even be customized further using stitch balance adjusting screw, favorite stitch setting, drop-feed, auto-locking off switch, and stitch elongation control.
#6. Twin Needle Guard
A twin needle guard helps in stitching with two needles simultaneously. To accomplish two-strand stitching, you need to thread the two needles and press the twin needle button.
This produces two high-quality stitch patterns on the fabric, creating eye-catchy designs.
However, it is to be noted that Janome MC6600's automatic threader unit does not work in the case of twin needling.
So, you need to manually pull the thread from the spools through the needle's eye and ensure that they remain separated.
It is recommended to sew at a minimum speed using finer threads when using this feature.
Besides, in twin needle set up, you can customize your stitch width up to a maximum of 3 mm only, that too only for selected stitch patterns.
Janome Memory Craft 6600 Sewing Machine's Accessories
Janome Memory Craft 6600 sewing machine is supplied with numerous accessories to support its versatility. These include:
14 presser feet set
Zigzag: useful for all utility sewing, including straight and zigzag stitches
Satin stitch (2): helps to sew dense zig-zag stitches, including decorative satin stitch patterns
Rolled hem: accomplishes narrow edge stitching of the fabric, assuring professional finish
Blind hem: aids in sewing invisible hems around the material, facilitating topstitching
Overedge: prevents unraveling of the thread by wrapping it around the edge of the cloth
Overcast: helps to sew the raw edges of the fabric to ensure a high-quality seam finish
Cording: holds multiple cords in one place and eases their stitching without slipping
Darning: helps in quilting, free-motion stitching, embroidery, monogramming, and patchwork
Basting: holds the layers of fabric together through loose stitches until they are stitched
Dual feed: feeds multiple fabric layers evenly, consistently, and in complete alignment
Standard buttonhole: aids to sew most common buttonholes with high precision, assuring clean finish
Automatic buttonhole: buttonhole sizes can be preset and archived to punch identical ones repetitively
¼ inch seam: facilitates quick and accurate ¼ inch seaming, helping in quilting and topstitching
Screwdrivers
Seam ripper
Extra needles
Quilting bar
Bobbins
Fabric guide
Large extension table
Lint brush
Spool holder
Knee lifter
Power supply cord
Soft dust cover
Instruction manual
Quick reference chart
Furthermore, there is even an accessories box supplied that can hold all these add-ons safely. It is compact in size, measuring around 6 × 6 inches, and can be carried conveniently.
Pros and Cons
Just like any other sewing machine, Janome MC6600 has its own pros and cons.
Pros
Presence of memory banks
Large extension table
Editable stitch patterns
Detailed reference guide
Numerical touchpad
Dual feed system
Less noisy
Support for French knots
Cons
Not portable
Lacks free arm
Significant footprint
What to Consider When Buying a Professional Quilting Machine?
While buying a professional quilting machine, it is important to pay attention to many details. Prime factors to examine include
#1. Price
It is necessary to ensure that every penny spent reaps certain benefits, adding extra value to your work. It would always be good to choose a machine that offers maximum features at a reasonable price.
The equipment with most of the desired features, designed to deliver high-quality work, is always preferable.
#2. What Is the Purpose of Using This Machine?
Janome MC6600 is a machine designed to serve the purposes of patchwork and quilting rather than normal sewing.
It is made to satisfy professional sewers' demands by providing them a speed of around 1000 stitches per minute, lots of control options, stitch editing choices, quickly referrable user guides, and many others.
Janome MC6600 Alternatives
Having discovered more on Janome MC6600, did you find something missing? If yes, then feel free to go through the following alternatives that might suit you the best!
#1. Singer Quantum Stylist 9960
Singer Quantum Stylist 9960 is a sewing machine that provides you with a rich array of stitch patterns accounting for around 600 in total.
Singer model offers a maximum stitching speed of 850 stitches per minute, and the Janome can operate at a speed of 1000 stitches per minute.
However, unlike the former, the Singer machine lacks memory, unlike Janome MC6600, while the latter is deficient in the free arm.
This makes the Singer model suit the best for standard sewing, especially at beginner and intermediate level, in contrast to the Janome that suits the best for professional use like that of quilting.
Apart from these, both machines are comparable in terms of stitch editing capability, presence of presser foot controls, drop feeding feasibility, accessory supplies, needle positioner, throat space, automatic units, easy-to-use bobbin system, and presence of button controls.
Read the full review of Singer 9960.
#2. Brother Innovis 1800Q
Brother Innovis 1800Q imbibes touch-sensitive keypad, knee lift, automatic threader, and bobbin systems, stitch editing options, lock stitch button, and speed controllers just as Janome MC6600.
Besides, both offer many accessories, presser foot options, and intuitive user interfaces to ease their operation. As a result, you can use either of them for quilting-like heavy-duty, space-demanding works.
However, the number of built-in stitches in the Brother Innovis 1800Q is 234 instead of around 400 in the Janome. Besides, the feed system in Brother Innovis 1800Q is Square Feed Drive System (SFDS), while in Janome MC6600, it is Acu-feed.
Furthermore, this Brother model imbibes the ICAPS fabric system that continuously monitors the fabric thickness and automatic height adjuster (AHA) function that cannot be found in the Janome model.
#3. Janome MC6700P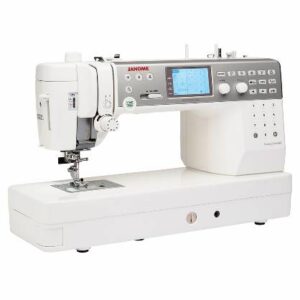 Janome MC6700P is the fastest top loading bobbin machine that operates at the speed of 1200 stitches per minute.
Both Janome MC6700P and MC6600 have an Acu-feed system, detachable reference stitch charts, needle position setters, and automatic threading units.
They are comparable in terms of accessories supplied, and needle plates included an effective workspace area, control options provided, customization provisions available, and buttonhole options.
Availability of extension tables, ergonomic body design, and easy-to-use controllers make either of them suitable for activities like quilting, appliqueing, and patchwork.
Nevertheless, Janome MC6700P is fitted with 6 LEDs at three different positions and has 20 memory banks, unlike MC6600, which has 2 LEDs around the needle with 5 memory banks.
#4. Janome MC6650 Quilting and Sewing Machine
Janome MC6650 offers almost the same speed as MC6600 and is fitted with similar controls like start/stop button, speed controller, favorite stitch button editors, and needle positioner.
It imbibes a needle threader unit, drop-in bobbin system, foot controllers, a huge number of accessories, memory banks, buttonhole setters, drop feed system, twin needle guards, separate bobbin winding motor, stitch recall provision, and intuitive user interface.
However, Janome MC6650 does not support monogramming, lacks knee lifter, and is deficient in ¼ seam foot, unlike Janome MC6600.
Nonetheless, the former has more LEDs, around 6, instead of the latter with only 2.
Besides, these Janome models differ in their feed systems: Acu-Feed and Superior Feed System Plus in the cases of 6600 and 6650, respectively.
#5. Juki HZL-F600 Sewing Machine

Juki HZL-F600 is a machine that offers 225 stitch patterns that can be combined and customized before being saved into the memory bank.
It is fitted with an automatic needle threader, separate bobbin winding motor, intelligent bobbin system, advanced thread trimmer, knee lifter, needle position adjuster, LCD, easy foot controllers, and other user-friendly components.
Moreover, both Janome MC6600 and Juki HZL-F600 come with numerous accessories facilitating their easy and quick deployment.
Nevertheless, it is to be noted that Juki HZL-F600 offers both manual and auto adjustment for tension, while the Janome lacks the automatic feature.
Besides, the Juki model differs from Janome in its feed system as the former employs box feeding, unlike the Acu-feed system in the latter.
Conclusion
Janome Memory Craft 6600 is a robust, computerized memory-fitted machine that suits the best for quilting and patchworking rather than standard sewing.
It offers you a wide array of stitch types that can further be personalized to meet your specific demands. The machine can handle many kinds of fabrics ranging from light to heavy, including slippery.
Numerous needle positions, presser foot controls, speed control options, Acu-feed system, needle threader and cutter, automatic bobbin system, a detailed reference guide, built-in spindles, knee lifter, LED, numerical touchpad, drop feed system, stitch memorization and recall options, and LCDs further make it user-friendly and heavily customizable.
However, this machine might not suit you the best if you are looking for something that is actually portable.