The Janome MC6650 sewing machine is an ideal one for all of your sewing needs. It is power-packed with a ton of interesting features that will make you go wow. The machine has about 170 stitches and patterns that allow you to use various sewing projects.
It has a computerized screen that enables you to change or alternate settings easily. Additionally, the machine also features an independent bobbin and 2 alphabets. The stunning sewing machine has a maximum stitching speed of 1000 stitches per minute.
This fast sewing speed is great for professionals and a learning experience for beginners. If you are looking for a performance-oriented machine, then the Janome MC6650 is exactly what you need. It has a silent operation and delivers efficient stitches like no other sewing machine.
The sewing machine is on the bulkier side and quite heavy since it is crafted with metal. However, the durable metal offers efficiency and effectiveness to the machine.
If you are a beginner or a professional sewist, then purchasing this machine will be the best decision of your life. Now let us have a detailed look at the specifications of the sewing machine.
What I Like About Janome MC6650 Sewing Machine
The Janome MC6650 Sewing Machine has many advantages and is quite a popular product among the masses. The product has numerous positive reviews along with high ratings for the product.
The Janome MC6650 is a powerful machine that sews with perfection. Additionally, it is quite a silent machine for the number of features in it.
As compared to other sewing machines in this range, it is effortlessly silent in operation.
Hence, if you are home sewing, you won't disturb anyone else. Also, the machine gives you clean and finished stitches that look like they are professionally done. Plus, the wide working area gives you the freedom to work efficiently.
The illuminated working area gives you the ability to see your sewing without straining your eye clearly. Furthermore, the sewing machine has easy to control buttons that allow you to sew with ease.
The heavy-duty metal frame of the machine gives it a sturdy and durable finish. You also have a wide range of stitch options to choose from.
The variety of stitches allow you to try unique designs and patterns to enhance your skills. Last but not least, it has a separate bobbin winder too.
What I Don't Like About Janome MC6650 Sewing Machine
The machine is on the heavier side owing to the material, which is metal. This heavy metal adds to the weight of the product.
Another issue that you might face with this machine is adjusting the tension. It can be quite tricky to set the right tension according to your sewing projects.
Similarly, the sewing machine does not include a knee lift. Also, the machine does not have a 1/4 inch presser foot.
Check the Price of Janome MC6650 on Amazon.
Janome MC6650's Features
#1. Stitches and Buttonholes
The Janome MC6650 machine features 170 built-in stitches. These stitches include quilting, direct, and utility stitches. This huge variety of stitches allow you to create stunning pieces of art and explores your imagination.
Furthermore, it also has 9 one-step buttonholes with script alphabets both in upper and lowercase. If you look at other sewing machines in this range, you won't find any with many built-in stitches.
However, with such an amazing variety of stitches, you can put your imagination to the test. Stun everyone with your interesting work of art.
#2. Needle Plate
The Janome MC6650 has an easy change needle plate. All you need to do is push a button to remove the current needle plate. This helps in easy removal, thus saving a ton of your time.
With other machines, it is quite a task to change the needle plates. However, with this amazing sewing machine, you can alternate between the Zig zag plates and the Straight stitch needle plate.
This way, you won't have to spend your time or energy while changing them. Simple, isn't it? A machine this efficient is tough to resist.
#3. Bobbin
This interesting machine offers an easy and simple top-loading bobbin system. The machine includes a full rotary metal hook, which moves in just one direction.
If you look at other machines with front-loading bobbin systems, you will witness that they are pretty difficult to deal with. However, the Janome MC6650 sewing machine makes everything simple and sweet.
The machine is very silent in operation and also does not need much lubrication as compared to other machines. Furthermore, the bobbin cover has a diagram that makes sure it is accurately inserted.
#4. Threading
The built-in needle threader allows you to thread the needle in no time easily. If this is your first time threading a needle, you can follow the instructions or the diagrams printed on the sewing machine.
You can then make use of the built-in needle threader to pass the thread through the fine needle eye easily. While threading the needle manually can take a ton of your time and effort, this automatic built-in threader is a huge benefit.
This is also extremely beneficial for the elderly, who can easily thread the needle manually.
#5. Feed Dogs
The Janome MC6650 sewing machine has a 7 piece feed dog system. This feature pulls the fabric easily right through the machine without any problems.
You can find the drop feed lever on the side of the machine. Simply use the power switch to access the lever. They are the perfect way to sew free motion quilting.
At the same time, you can use this feature for creating interesting buttonholes and darning. This product from Janome is an all-rounder sewing machine that is definitely worth a buy.
#6. Control
You can simply use the dial to make any adjustments with the presser foot pressure. With the Janome MC6650, you also have an industrial style thread tension control.
This amazing and unique feature is not something you find in other sewing machines in this range. It gives sewists an added confidence in their art. Also, the controls of the Janome MC6650 are quite easy to use or operate.
Last but not least, if this is your first sewing machine, this will surely be your last as well owing to its high-quality performance and efficiency.
#7. Convenient Buttons
The Janome MC6650 has some easy, convenient buttons on the right side of the huge LCD screen. These buttons are added for each access and to save time as well. This way, you won't have to keep searching for various buttons.
For instance, you can find programmable thread trimmer, bobbin thread, or reverse buttons just at the side of the screen.
This enables you to access them easily and continue with your sewing projects without taking any breaks. At the same time, you can also find a needle up/down button with a locking stitch button.
The best part of having an LCD screen on the sewing machine is that you can easily look at all the settings.
Similarly, you can choose your preferred style of stitches and select them using the screen. What's more? The machine also recommends the best foot suitable for each type of stitch.
#8. Dual Thread Guide
If you need to use twin needle threading, the Janome MC6650 offers just the right space for the same.
With this sewing machine, you can use vertical thread delivery, which is crucial for twin needle threading. This is also a great feature if you happen to use various threads for bobbins or topstitching.
Check the Price of Janome MC6650 on Amazon.
Janome MC6650 Accessories
The Janome MC6650 sewing machine comes with a host of accessories to help with your projects.
Some of the accessories included with the product are free motion quilting zig zag foot, zipper foot, zig-zag foot, automatic buttonhole foot, and darning foot.
Furthermore, it also comprises the overcast foot, blind hem foot, rolled hem foot, spool rests, small and large spool caps, lint brush, seam ripper, pack of needles, zig-zag needle plate, and a straight stitch needle plate.
The list has an instruction DVD, machine cover, operating manual, and a 6 ft power cord.
The product ensures you have a complete list of accessories to make your sewing experience a breeze.
Warranty
As far as the warranty of the Janome MC6650 machine is concerned, it features a 25-year warranty.
However, do make it a point to note that the entire sewing machine is not covered in the warranty. Let's have a look at the breakdown of the warranty
1-year labor
5 years of electrical parts
25 years of mechanical parts
Janome MC6650 Manual
If it is the first time you are using a sewing machine, the detailed instruction manual will clearly understand the basics.
The instruction manual of Janome MC6650 is pretty detailed and easy to understand. There are clear illustrations that you can follow and operate the machine.
If you are a beginner, then this sewing machine will give you the best sewing experience ever.
Moreover, it has a detailed description of every part of the sewing machine, especially for beginners.
Furthermore, it also talks about the various stitches, styles, features, and patterns. You will also find various care and maintenance tips for the sewing machine.
Alternatives to Janome MC6650 Sewing Machine
Take your sewing experience to another level with this Janome S5 sewing machine. The wide extended space allows you enough room for your larger quilting projects.
It is loaded with some of the most intriguing features that will leave you wanting for more.  For instance, it features a Memorized Needle Up/Down and Automatic Thread Cutter.
These are the features that any sewist or quilter will first look for in a machine. Additionally, these features save your time and effort as well and help you to speed up your pace.
Interestingly, the Janome S5 is a computerized machine that is definitely something you should look out for.
Also, the sewing machine is available at a steal deal, which you shouldn't ever miss. The machine has 170 built-in stitches with 10 buttonholes.
They give the right amount of chickens and variety that you would need in a sewing project. What's more?
The machine has 91 needle positions that you can use for your work. These positions allow you to be creative and add more detail to your art.
Furthermore, you can also make 9mm wide stitches with this machine. Using the extra width, you can add bold images or unique art to your work.
Also, there are 6 bright LED lights placed in three locations. These lights illuminate the working area, thus allowing you to work freely.
Simultaneously, the machine has a start/stop button, which allows you to eliminate the need for the foot pedal. Moreover, the machine has an ergonomic knee lift. You can easily control the presser foot with the knee. Finally, the machine has a warranty of 25 years.
Check the Price of Janome S5 on Amazon.
Juki HZL-DX7 is another interesting sewing machine that can be the best alternative to the Janome MC6650 machine. The sewing machine has a stunning 277 built-in stitches along with 4 alphabet fonts.
With these many options to choose from, you can be spoilt for fun. Additionally, the machine weighs 24 pounds and is quite heavy. This is due to the durable construction of the machine. Furthermore, the sewing machine also features an 8″ large throat space.
Moreover, you have the box feed technology that speeds up your sewing projects. This amazing machine has all of the features that a sewist would ever want in one. This machine is quite a popular one among the masses and is one of the favorite models from Juki.
One thing that stands out is the supreme quality of the machine. This computerized sewing machine is the perfect purchase for a consistent and reliable stitch every time.
You can never go wrong with this Juki HZL-DX machine. If you want those perfect stitches all the time, you can simply trust Juki with that.
Check the Price of Juki HZL-DX7 on Amazon.
Janome MC6650 vs. Janome MC6700P
Let's first have a look at the Janome MC6650 sewing machine. This is a model that is perfect for your sewing or quilting needs. Hence, if you use a sewing machine for huge projects, this machine will be your best companion.
This machine has an easy operation, which is beneficial for beginners as well as professionals.
It features a start/stop button that is highly recommended for big projects. You also can save your settings into the machine, which you can later use in the future.
The machine boasts of 170 built-in stitches that comprise 2 alphabets. With these many stitch options, you can put your creativity to the test and sew fantastic workpieces.
Furthermore, the machine has a maximum stitching speed of 1000 stitches per minute.
The amazing speed is a great add on for professional sewists. Also, you can find a total of 6 LEDs in 3 places in the sewing machine.
This bright illumination provides the right environment for flawless stitching.
Check the Price of Janome MC6650 on Amazon.
Janome MC6700P Sewing Machine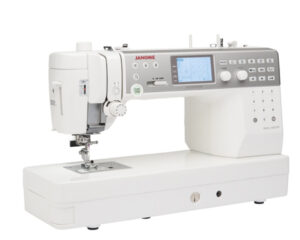 The Janome MC6700P is a machine that is specially designed for quilters. The machine is known for its amazing high stitching speed, which is 1200 stitches per minute.
This is quite impressive as other sewing machines in this range simply offer about 800-850 stitches per minute.
However, the only thing that is different about this machine is that it only offers straight stitching. It does not feature any decorative or other utility stitches, which is a drawback.
Since it is a quilting machine, the speed is of prominence rather than the styles. Additionally, the material of the sewing machine is crafted using cast aluminum, which makes it heavy.
Also, the machine offers high-performance sewing. With an extension table, you can work on a variety of projects with ease.
Another interesting feature of the Janome MC6700P is the AcuFeed Flex, which moves layers of fabric under the needle for effortless sewing.
What's more, the product features three-needle plates that comprise a straight stitch needle plate, a zigzag needle plate, and an exclusive HP needle plate.
Final Thoughts
In this article, we have seen a detailed description of the Janome MC6650 sewing machine. The article talks about the advantages, disadvantages, features, and specifications in the most honest way possible.
Similarly, we have also spoken in length about the other alternative solutions of sewing machines in the same range.
If you have been planning to invest in a Janome MC6650, then this sure will be your best purchase to date. Grab your deal soon, do not miss out!
Read Also: