Appliqueing is the art of creating mesmerizing designs on the fabric to increase its aesthetic value. Standard sewing machines cannot cater to applique demands as they demand the equipment to be specially designed to accomplish the detailed work.
So, when choosing a machine for surface embellishing, you need to look for some specific features.
This article outlines important factors for appliqueing machines like stitch speed, embroidery patterns supported, machine-make, embroidery field, and others.
Further, I also listed down the 8 best sewing machines for the applique, mentioning their salient features, pros, and cons below.
Janome MC 12000 Embroidery and Sewing Machine
Besides, there is also a section that answers the most frequently asked questions.
How to Choose the Best Sewing Machine for Applique?
The best sewing machine for appliqueing requires to meet specific criteria like being able to create splendid embroidery designs, having fitted with a large embroidery space, able to offer a versatile stitch pattern with adjustable stitch speed, colorful LCD panel to display information, encompasses embroidery hoops and others.
A detailed explanation of each of these is presented here below for your reference.
#1. Machine Type
All standard machines will not be built to meet the needs of surface embellishing. While choosing the machine for appliqueing, you must make sure that it supports embroidery applications.
Besides, it would be good if the machine is equipped with a USB port to ease personalization greatly.
Lastly, just as in the case of any other sewing application, appliqueing machines must be easy-to-set-up, friendly to use, robust in operation, less noisy, easy to maintain, supplied with ample accessories, and offer 24/7 customer support.
#2. Embroidery Design Size
Customization of design patterns is the most important requirement of appliqueing.
Higher the possibility, better the machine, and unique will be the result.
Most of the time, equipment will come with many in-built stitch types that include embroidery patterns, customized in terms of their length and width.
Dedicated embroidery tables measuring around 4 × 4 inches would serve medium-sized projects, while bigger works demand a larger area and bigger hoops.
To create tailor-made workpieces, opt for a machine that supports a broad range of embroidery design sizes.
#3. Stitch Speed
Stitch speed, indicating the number of stitches sewed within a minute, directly indicates the sewing machine's speed.
Although higher stitch speed may indicate quick completion of the work, it does not necessarily mean a high-quality finish.
Primely, as the stitch speed increases, control on it decreases, especially if you are a beginner. Further, not all situations demand an exceptionally high speed.
Hence, a machine that allows you to control the stitch speed to suit your exact need would be a better choice for appliqueing.
#4. LCD Screen
The LCD screen is the panel that displays information on the project like the stitch speed, pattern selected, presser foot in use and length, and the width of the stitch.
The preview of the design provided helps to quickly edit the settings to arrive at the desired pattern and follow it closely while resorting to actual stitching.
This saves huge time by reducing rework and thus leads to a quick completion of the project.
As a result, the machines fitted with a big, back-lit, contrast-adjustable, color-sensitive, touchscreen-enabled LCD panel would be the best for appliqueing.
#5. Other Features
Other features that might make the machine best suitable for appliqueing are the automatic threading unit, advanced bobbin system, memory banks' presence to memorize the stitch patterns, free arm, automatic thread cutter, and presence LEDs.
Furthermore, free-motion ability, dedicated embroidery foot control, the inclusion of embroidery hoops, frames that can be supported, thread tension adjuster, automatic embroidery feature, error or warning display ability, automatic height adjuster, USB connectivity, and pre-programmable nature also serve the most.
Top 8 Best Sewing Machine for Applique
This section introduces you to the top 8 sewing machines that are ideal for appliqueing.
The brief information about their features, pros, and cons helps you choose your favorite model at ease!

Brother PE800 is the most reliable appliqueing machine that comes with 138 built-in embroidery designs and 11 fonts. It is fitted with a 5 × 7 embroidery field that serves most surface embellishing tasks.
The model comes with a color screen LCD that shows the stitch pattern chosen either from the internal memory or imported from the USB port.
The workspace has some LEDs that can light up the area when working on dark-colored fabric or at night. Apart from this, there are many automatic units and easy-to-set controls.
Pros
Large embroidery field
Supports monogramming
The maximum sewing speed is 650 stitches per minute
Cons
Brother PE550D offers 125 built-in designs that include 45 Disney patterns. It even supports 9 font monogramming: 6 English and 3 Japanese.
Its embroidery space is 4 × 4 inches and is thus smaller than that of Brother PE800.
It is also fitted with a large LCD that facilitates color changing of threads and background using pushbuttons.
The model even supports USB connectivity and comes with a dedicated embroidery foot. Furthermore, there are many automatic controls and accessories that facilitate its deployment.
Pros
It comes with a user-friendly manual.
The maximum speed is 650 stitches per minute.
Supports Disney designs.
Cons
Supports single embroidery hoop size.
View the Brother PE550D on Amazon
Brother SE400 Combination machine is applique-suitable equipment that offers 67 built-in stitch patterns along with 70 embroidery designs. Also, 5 fonts help you leave a unique mark on the workpiece.
The model is fitted with a 4 × 4 embroidery space that supports most of the standard embroidery projects.
Moreover, it offers USB support and can be updated to keep pace with recent technological developments.
Furthermore, a lot of add-ons and advanced systems help in easy setup and use of the machine.
Pros
Serves dual purpose: stitching and embroidery
Supports 120 frame patterns
Operates at a maximum speed of 710 stitches per minute
Cons
LCD is not colored
Presser foot pressure is non-adjustable
View the Brother SE400 Sewing Machine on Amazon.
Singer Legacy SE300 is a sewing cum embroidery combo with 250 built-in stitch designs, 200 exclusive embroidery patterns, and 6 font options.
It encompasses a larger hoop measuring 10.25 × 6 inches and a 4 × 4 embroidery space.
This Singer model offers a maximum speed of 800 stitches per minute and 700 stitches per minute for sewing and embroidery, respectively.
Besides, the machine is tough, can handle various fabrics, is fitted with many automized units, and is supplied with 10 snap-on presser feet and many accessories.
Pros
Imbibes a touchscreen LCD
Serves both sewing and embroidery applications
It supports a large hoop
Cons
LCD is not colored
Assembling is slightly difficult
View the SINGER | Legacy SE300 on Amazon.
Brother SE1900 sewing embroidery machine is heavy-duty compatible equipment with 240 built-in stitches and 138 embroidery patterns.
It encompasses a large embroidery space measuring around 5 × 7 inches and is fitted with a bright, touch-sensitive colored LCD panel that assures clear vision.
USB port compatibility and the presence of 8 sewing feet enable you to accomplish creative works at great ease.
Besides, many dedicated automatic units, stitch customization tools, and several add-ons facilitate appliqueing.
Pros
Supports monogramming in 11 font styles
Sewing cum embroidery machine
650 and 850 stitches per minute for embroidery and sewing, respectively
Cons
Has only one embroidery hoop
The needle threading system seems to be flimsy
View the Brother SE1900 on Amazon.
Brother SE600 is a machine that can be used for both standard sewing and embroidery applications.
The model imbibes 103 built-in stitches, 80 different embroidery patterns, and 6 unique lettering fonts to try-out. There is a 4 × 4 inches embroidery field that suits standard-sized projects.
The model is fitted with a full-color, touch-sensitive LCD panel and is equipped with a USB port.
Moreover, there are many intuitive controls, automatic units, attractive features, many kinds of presser feet, and ample add-ons to meet appliqueing demands!
Pros
Large, colored LCD
Numerous embroidery patterns
The maximum speed is 710 stitches per minute
Cons
A bit costly
Swapping between embroidery and sewing modes is not very easy
View the Brother SE600 on Amazon.

Brother LB5000M is a sewing cum embroidery machine that offers 103 stitch types, 80 embroidery patterns, and 9 fonts.
The machine comes with 10 downloadable marvel designs, 10 additional superhero patterns, and multiple interchangeable character faceplates, including Hulk, Iron man, and Captain America.
It is equipped with a 4 × 4 inches embroidery area, a hoop, an embroidery arm, and a large colored LCD panel.
Besides, LB5000M is characterized by many attractive features like 7 presser feet, free-motion stitching ability, and a built-in USB port.
Pros
Operates at a maximum speed of 710 stitches per minute
Specially customized for Marvel theme
User friendly
Cons
Slightly costly
Supports specific file formats only
View the Brother LB5000M on Amazon.
8. Janome MC 12000 Embroidery and Sewing Machine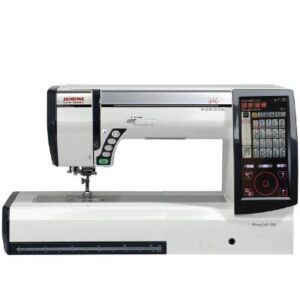 Janome MC 1200 is an embroidery cum sewing machine that provides 425 built-in stitches with 338 built-in embroidery patterns and 2 & 3 font options.
It imbibes 4 MB memory space to facilitate archiving favorite, frequently used, or customized design patterns.
Janome Memory Craft 12000 is characterized by easy-to-navigate buttons, USB port connectivity, compatibility with free-motion sewing, 43 presser feet options, advanced PC connectivity via horizon link, many automatic systems, ample supportive units, and 4 embroidery hoops.
Pros
A huge number of presser feet options
It supports 4 embroidery hoops
Can connect to computers in real-time
Cons
Slightly expensive
Not very suitable for beginners
Final Thoughts
Appliqueing can potentially make your workpiece more attractive and visually appealing.
The process can be greatly eased when you have an appropriate machine in-hand.
Choice of such machines must be made on the factors like the area of the embroidery field, stitch types offered, ease of control, speed of the machine, its robustness, and trustworthiness.
Furthermore, it would be best if you even had an eye over the budget and clear whether to choose embroidery-only or embroidery-cum-sewing equipment. So, why wait, make a choice, and go for it!
FAQs:
What Needle Size Is Best for Doing Applique?
Needle sizes for appliqueing are to be decided based on the thread's size and fabric type.
Needles should be able to punch a hole through the material that is just enough for the thread to pass through it without friction while leaving no gaps. This means, thicker the thread, the larger the needle should be.
For instance, if you opt for invisible machine applique, then needle sizes of 60/8 or 70/10 are preferable, 90/14 needle sizes work well for most medium weight fabrics, and 80/12 needle Microtex Sharp needle would be the best for 40 wt Sulky Rayon thread.
What Are the Differences Between a Regular and Embroidery Machine?
Regular machines are meant to be used for standard sewing applications, while the embroidery machines are tailor-made for surface embellishing works.
Regular machines usually come with monochrome LCDs, while most of the embroidery machines are fitted with colored LCDs to facilitate easy tracking of the design pattern.
Embroidery hoops form an inevitable part of an embroidery machine that is usually absent in sew-only equipment.
Computerization and USB connectivity is most desired in embroidery equipment, unlike in the case of stitch-only machines.
Can you use an embroidery machine for doing applique?
Embroidery machines are specially designed to accomplish surface embellishing works.
Specifically speaking, embroidery refers to colorful thread work on the cloth materials. In contrast, appliqueing refers to more a kind of patchwork where one layer of fabric is woven on the other.
However, most of the features demanded by appliqueing, like free-motion sewing, stitch tension adjustment, speed control, and pattern customization, are met by embroidery machines.
Thus, you can use embroidery machines to do applique by following some simple steps.
Read Also: