The Brother CS6000i is quite a popular sewing machine among sewing artists and is considered one of the most reliable and efficient products that deliver top-quality performance. This affordable sewing machine is great for beginners. Furthermore, sewing professionals also find it as a versatile machine to create pieces of art.
This sewing machine offers several automation features, which can help you through a wide range of sewing and quilting work.
It can be useful in stitching costumes or clothes with different fabrics (no matter for knit or heavy fabric) and suitable for sewing denim, sewing buttonholes, cuffs or sleeves, decorative sewing, pleating, and other more.
The finish of the stitch is spotless and crisp, and that is my favorite.
Additionally, you can use your creativity and enhance the stitches' quality with Brother CS6000i.
Check the price of Brother CS6000i on Amazon.
What I Like Most
Brothers CS6000i is an economical, affordable, and efficient product.
The sewing machine comes with a good number of accessories. Hence, you don't need to spend anything extra on the additional stuff—less expense with an amazing device.
The machine has an easy setup and operation.
It has some interesting functions like an automatic needle threader and drop-in bobbin.
If you happen to make any mistakes while setting up the sewing machine, an error message is displayed on the LCD screen.
It is one of the simplest machines that a beginner can start to learn to sew. It is a recommended product for anyone who wishes to learn the art of sewing.
The Brother CS6000i is also a good product for experienced as well.
What I Don't Like
The Brother CS6000i is designed only for household use. Hence, if you plan to make a living with this sewing machine, that would not be such a great idea. The machine will not be able to withstand heavy work on it daily.
There is a limitation to the number of layers that the sewing machine can handle.
You can stitch or sew denim or canvas with the sewing machine. However, you will have to double the effort to stitch these materials as they tend to be a little thick.
The sewing machine cannot handle heavy or thick fabrics at all. Fabrics or materials like leather should not be used with the device.
The thread tension does not have an automatic system. It has a manual dial that needs to be learned separately.
The lighting of the sewing machine is inadequate. A lot of users have found the LED light to be insufficient. Hence, you will purchase separate lights to illuminate the work area.
You do not have any special features like monogramming functions or automatic embroidery. However, you can use other features like free-motion sewing.
Check the price of Brother CS6000i on Amazon.
Benefits Of Using Brother CS6000i
Stitching is quite a common activity if you wish to create interesting costumes and outfits. To stitch with ease, you need an ideal sewing machine that is easy to operate and use.
A compact sewing machine sits easily in hand and enables you to stitch with perfection.
Since it has a compact design, the machine is also very lightweight.
This allows you to carry it along while traveling as well. Instead of using those old fashioned sewing machines, it is best to use the Brother CS6000i.
Now you won't have to waste time running to your nearest tailor to get your stitching work done. Use this amazing sewing machine and get results like never before.
Furthermore, the sewing machine is the perfect starter machine for beginners.
It comes along with an instruction manual, which in detail specifies the working of the sewing machine. You can easily open the supportive booklet and follow the instructions as given.
Though the product has a low price, it does not compromise its features or specifications. Additionally, if you are wondering about the working area, the Brother CS6000i has a wide table area for your sewing projects.
It is the perfect option for your sewing and quilting needs. Moreover, if you need to stitch any cylindrical items like the sleeves or pant legs, the built-in free arm wi help you do so with ease.
Who Is Brother CS6000i for?
The Brother CS6000i is for anyone who is looking to buy an affordable sewing machine with easy operation. It has a user-friendly setup and requires pretty little maintenance.
This sewing machine is also a great startup device for beginners. If you are new to the sewing world, then it is recommended that you use the Brother CS6000i to understand the machine better.
Furthermore, it has several features that allow you to stitch with a variety of different fabrics. This enables you to explore your creative side. This is one of the most sought after sewing machine for beginners.
Since it is lightweight, you can have the best experience with this sewing machine.
Check the price of Brother CS6000i on Amazon.
What Fabrics Can Brother CS6000i Handle?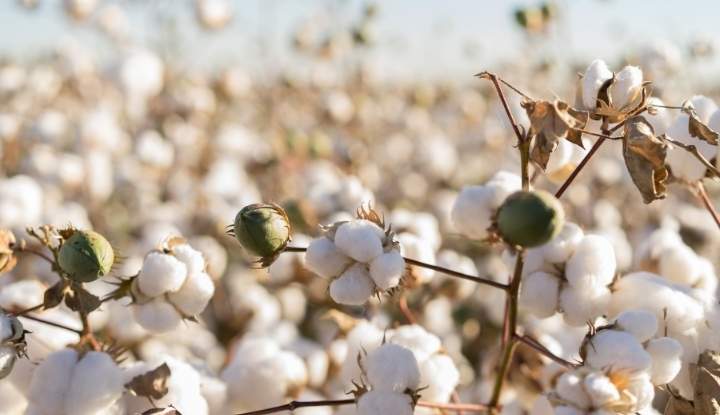 There are several kinds of fabric that you can stitch with the Brother CS6000i. Some of them include linen, cotton, wool, silks, cotton-linen blend, polyester-cotton blends, yoga wear, faux leather, lycra, stretch knits, denim, canvas, and fleece.
It is an all-rounder sewing machine that can handle a majority of types of fabrics. You don't need to worry at all while sewing different fabrics with the Brother CS6000i.
However, you should make sure that you don't use any heavy fabric like real leather or upholstery on the sewing machine. It might not be able to handle such tough fabrics.
Setup for Brother CS6000i
The setup for the Brother CS6000i is fast and easy, thanks to the advanced technology of the machine. First, we shall look into the threading section. You will see a numbered diagram on the appropriate threading spots.
These are especially important since they help you thread if you are a beginner.
Once you are done with the threading process, the next is the automatic needle threading system.
This feature requires you to press a lever that is on the side of the machine. Rest, you can leave it to the Brother sewing machine.
You won't have to spend your good 20 minutes focusing on threading the needle. The Brother CS6000i does it automatically without any hassle.
Furthermore, the next section is the automatic bobbin winding system. There is an included diagram that shows you the detailed steps to use the automatic bobbin winding system.
With this quick fix, you can get rid of trying to fish the thread. Then, you can turn on the work area light to illuminate the workspace. Finally, you can get started with your sewing project.
Stitches of Brother CS6000i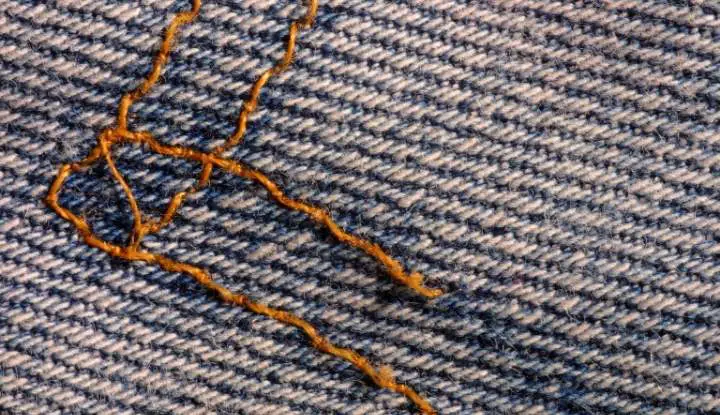 While performing your sewing activity, you would need to use different stitches to complete your work. The Brother CS6000i has an LCD screen that lets you choose amongst 60 stitches.
You will find a diagram on the machine's right side with all the stitches along with their corresponding numbers. Additionally, the selection of the stitch is also straightforward.
All you need to do is enter the number of the stitch that you want. Furthermore, also choose the stitch width and length. This advanced feature allows you to create beautiful pieces of art with several kinds of stitches.
Sewing Speed
The Brother CS6000i has an adjustable sewing speed. This allows you to adjust the speed easily. This feature is essential for beginners as it allows them to get used to the sewing machine. This is also useful if you happen to work with different fabric kinds that require time to stitch.
Furthermore, sewing speed is one of the most important factors when you buy a sewing machine. You can alternate between the stitching speeds while you carry out your sewing projects.
Ensure that the sewing machine you choose has an adjustable sewing speed since both beginners and professionals can use it.
Foot Control Pedal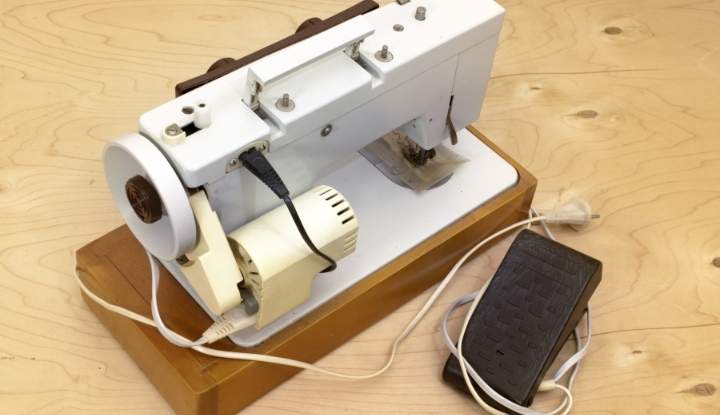 The Brother CS6000i is a computerized sewing machine that comes along with a foot control pedal. If you wish to take a break from using your feet, you can switch to the three-speed setting.
It is the best option for all of your sewing and quilting needs. The foot control pedal is as important as the gas pedal that you have in your car. The more you press the pedal down, the faster it is going to sew for you.
A majority of the sewing machines can go very fast, depending on their type. To accurately get the feel of the machine's speed, it is recommended that you use the foot pedal barefoot.
Thread Tension
You might find several other sewing machines that have an automatic thread tension. However, it is crucial to note that Brother CS6000i does not have that feature.
You will not find an automatic thread tension in this particular sewing machine. This can get a bit tough for beginners to use the machine. Within an automatic function, you need to adjust or modify the preset tension settings.
However, with experience, you will be able to adjust the thread tension. Also, as you get used to the sewing machine, you will easily master using the manual dial.
Foot Choice
The presser feet are a kind of attachment that is used with sewing machines. The main purpose of presser feet is to hold the fabric down beneath the needle while sewing. Nowadays, there are a good number of presser feet that come along with a sewing machine.
These attachments add multiple functionalities to the sewing machine.
Furthermore, the biggest advantage of the presser feet is that it adds convenience to your sewing. Additionally, it also saves a lot of your time.
The Brother CS6000i computerized sewing machine comes with 9 standard types of feet.
Those 9 types are zig-zag, walking, overcasting, zipper, blind stitch, spring action quilting, buttonhole, button fitting, and monogramming.
Free Arm
The Brother CS6000i has a built-in free arm. This feature makes it very easy for you to sew sleeves or cuffs. You can also sew the hem on kids' pants as well.
A built-in free arm makes stitching circular items a breeze. This function is especially beneficial for beginners who are just starting in the sewing field.
The free arm is quite an important feature that makes your sewing process much simpler. In simpler terms, the free arm is a narrow working surface.
It is much narrower than a regular sewing machine. It has space beneath it such that the free arm does not hit the table that it is placed on.
LED Light
Though the Brother CS6000i has a bright LED light, it can vary according to each customer.
While some customers felt that the LED light was bright enough, others felt that the light wasn't too bright for them to work with. However, it is best to invest in a small desk lamp for additional brightness.
You can also purchase a strip of LED light and fix them onto the sewing machine.
This will illuminate the work area much brighter and will allow you to work effortlessly.
Noise Level
As far as the noise is considered, it is mostly on the person's tolerance level. When you buy a sewing machine, it is often essential to check the noise level.
If you sew for a long time, it is wise to get a sewing machine with the least minimum sound. While some users found the machine sound to be bearable, others found it to be too loud.
Usually, you might experience greater sounds at higher speeds. However, this should not deter you from buying this stunning sewing machine from Brothers.
Manual
The manual that comes along with the Brothers CS6000i is very comprehensive. It has a detailed description of the working of the sewing machine.
Although the sewing machine's working is quite simple, you can check the manual if you happen to face any issues. The manual is descriptive and explains every step pretty simple.
Furthermore, the manual covers sections like 'Knowing your sewing machine,' 'Sewing basics,' 'Appendix,' and 'Utility Stitches.' Each of these sections has clear and simple diagrams to explain the descriptions.
They help you understand the functioning of every single feature. The manual is an excellent instruction set for beginners as well.
You can get acquainted with every feature easily and learn the techniques rapidly. The section of 'Utility Stitches' is beneficial for beginners.
Additionally, do not forget to read the safety warnings listed in the manual. Always follow the given instructions to be safe while you sew.
Warranty
When buying a sewing machine, you must purchase a product that has a warranty. This secures and protects your purchase. For instance, the Brothers CS6000i has a limited warranty of 25-years.
The warranty includes the Chassis Casting. Additionally, there is only a one-year warranty for labor, parts, and the sewing machine's accessories.
Furthermore, there is a 2-year warranty on printed circuit boards and electronic components.
This is excluding the cost or price of the replacement labor. Also, do make sure to keep your receipt of the sewing machine safe. This will be necessary when you want to make a warranty claim.
You will need to pay the cost of packaging, shipping, and insurance to the Authorized Service Center. Only use this sewing machine wherein the power source is 120V AC. This is applicable even if the voltage adapter is available.
Check the price of Brother CS6000i on Amazon.
Brother CS6000i Alternatives
The Juki TL – 2010Qi is a fast, precise, and efficient sewing machine that is a great alternative to Brother CS6000i. The sewing machine does not have any sound.
In other words, it is free from any vibration while sewing. If you wish to get those perfect stitches all the time, Juki won't let you down. Furthermore, the sewing machine can sew up to 1500 stitches per minute.
That is quite a lot. Additionally, the machine is made of die-cast aluminum material. This material makes the machine durable and strong.
When it comes to embroidery and free motion quilting, nothing beats this sewing machine.
This machine is specifically designed for professionals who have enough experience working with these devices. Not to forget, the abundant features and stitch quality is what makes the sewing machine so popular.
Read Juki TL – 2000Qi full review.
The Singer Quantum Stylist 9960 is a computerized portable sewing machine built for all those who love to sew.
The sewing machine offers a wide variety of features and specifications like speed control, automatic stitch settings, and so much more.
Several extra accessories come along with the product. It offers 600 stitch applications and 850 stitches per minute. This enables you to stitch at great speeds.
It also has an automatic one-step buttonhole. If you need to select the stitches, all you need to do is press a button, and you are ready to go.
The stitches are displayed on the front panel of the sewing machine. Finally, the built-in needle threader offers effortless threading.
Read my full review of Singer 9960 here.
Final Thoughts
Brother CS6000i has multiple benefits and features that make it the perfect tool for beginners. However, professionals, too, can use the sewing machine for extra creativity.
If you are a sewing or quilting enthusiast, you can get your sewing projects done faster than ever.
Give this machine a huge consideration before you pick another one.
Check the price of Brother CS6000i on Amazon.
FAQ's
1. Can you quilt with Brother CS6000i?
The Brother CS6000i does not have a big arm, yet you can perform quilting with the same. The amazing sewing machine comes with a detachable extra wide table that compensates for the small working area.
The machine has built-in quilting stitches like the applique, zig-zag, stippling, and hand look. You can make use of a variety of stitches to create something unique and beautiful.
2. Is Brother CS6000i portable?
Yes, the Brother CS6000i is lightweight. Hence, the sewing machine is portable. The weight of the machine is 13 lbs. It is lighter than most of the sewing machine that is available in the market.
You can easily carry it from one room to the other. Else, even if you are traveling, you can consider carrying it along. However, make sure that you carry the sewing machine with the hardcover case that comes along with the product.
3. Can you embroider or monogram with Brother CS6000i?
The Brother CS6000i is not an embroider or monogram sewing machine. It does not come with an embroidery hoop.
However, you can do the free motion embroidery by making use of the spring action quilting foot. Additionally, you can also freehand monogram letters. However, that does take some practice.
4. Can you sew leather with this machine?
As far as the quality of the sewing machine is concerned, it can sew leather as well.
However, it is recommended that you do not use any heavy fabric since they are not meant for beginners. The machine is primarily built for beginners.
Hence, they should not start with leather fabrics at first. Although the machine is quite tough, you should refrain from using heavy fabrics.
5. How to control speed?
If you wish to control the sewing machine's stitching speed, it is best to look at the instruction manual.
There are different sewing speeds available wherein you can easily adjust them. Just with a single button, you can change or control the sewing speed.
6. How computerized are the controls of Brother CS6000i?
Though some people refrain from purchasing computerized sewing machines, it is one of the best alternatives to traditional machines. The machine has many automated features like the automatic needle threader,
Drop-in bobbin, reverse stitch, and so many others. This is easily one of the best-computerized machines that you can invest in.
Check the price of Brother CS6000i on Amazon.
Read Also: