Brother Project Runway CS5055PRW is a computerized, versatile, heavy-duty sewing machine that can be used to stitch many kinds of fabric, varying over a wide range of thicknesses, including those of thick fabrics, makes it suitable for quilting and sewing curtains, bags, decorative items, jeans, and denim. Although best-suitable for intermediate users, the model even offers attractive features for both beginners and experts.
Its plastic-made body makes it extremely light, imparting an easy-portability feature, less vibrant and less noisy.
It comes with an automatic needle threader, bobbin winder, LED, LCD panel, built-in stitch patterns, presser feet, speed controller pedal, and many other accessories.
If you are on the hunt for a one-step buttonhole sewing machine, Brother CS5055PRW is the right choice that caters to your sewing need as it has five one-step built-in custom-sized buttonholes, which can help your process your buttonhole project with ease.
Check the price of Brother CS5055PRW on Amazon.
Who Is the Brother CS5055PRW For?
Brother CS5055PRW is a lightweight machine that can be carried easily by holding its handle.
Its portability makes it ideal for those who have a requirement to port the machine quite often, like fashion design students or those who wish to carry it for classes.
It also aids those who have a problem with lifting heavy equipment.
Although ok for beginners, this model best fits the intermediate users who have experience handling sewing machines for a few days.
Who Is Not For?
Brother CS5055PRW has a limited throat space and is thus not much ideal for professional quilters. Its machine body is mostly plastic and is thus not very sturdy equipment, posing a threat for super heavy duty works.
It lacks an automatic thread cutter, speed controller dial, and bright LED (lighting is important for visually impaired people and the elderly. If you are over 50, it would be better to choose a sewing machine with LED).
This makes it less preferable amongst expert sewers who have heavy workloads as it would considerably delay the work.
Check the price of Brother CS5055PRW on Amazon.
Brother CS5055PRW Sewing Machine Features
Brother Project Runway CS5055PRW imbibes many attractive features. Particular importance is of its ease of usage and portability that makes it special amongst other competitive models.
A few prominent characteristics of this model are presented in detail here below for your reference.
#1. Light Weight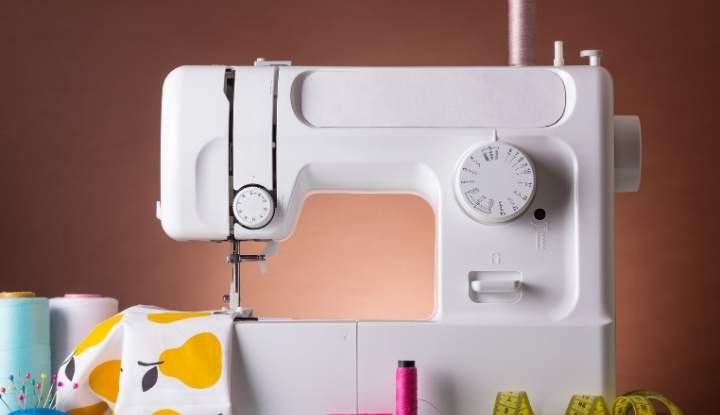 Brother CS5055PRW weighs around 10.65 pounds and is thus lightweight sewing equipment. It demands a small place and can conveniently be set-up in your room as it has a relatively small footprint.
This model is equipped with an easy-to-carry handle to aid in its easy lifting and carrying. Although the machine is easily liftable, it can handle considerably heavy materials.
This makes Brother Project Runway CS5055PRW capable of handling minimal-range heavy duty works.
#2. Easy to Use
This model is user-friendly and is supplied with all the necessary supplements that aids you get started quickly.
The user manual gives a vivid picture and setting-up, machine usage, and maintenance to ensure hassle-free, long-lived operation.
Many of its features can be chosen using switches and simple levers, making Brother Project Runway CS5055PRW suitable for novices.
Being devoid of hi-fi features like monogramming and compatibility with computer gadgets further ease its application.
#3. Bobbin Winder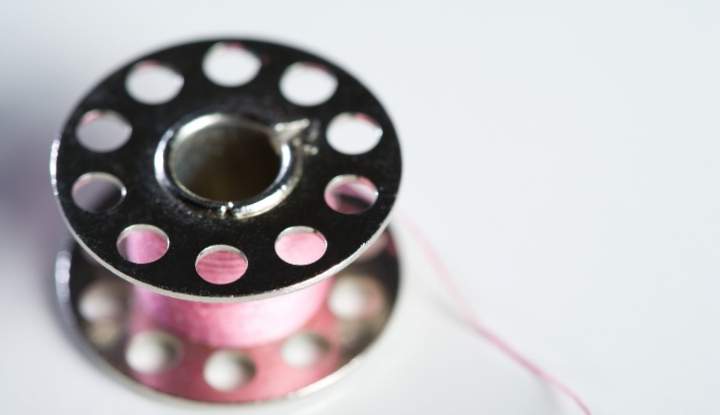 Brother CS5055PRW is equipped with an automatic bobbin winder that aids in quick bobbin winding. The bobbin winding motor operates on a separate motor other than the machine's main motor, preventing extra load on the latter.
Besides, its drop-in top bobbin type is designed to be jam-resistant facilitating hurdle free sewing for various kinds of materials.
Quick set-up, reliable bobbin system saves your time while ensuring better quality stitches in string tension.
#4. Easy to Thread
It is easy to thread the needle in Brother Project Runway CS5055PRW as it houses an easy-to-use automatic threader unit. Just a touch of the level will pull the thread through the eye of the needle effectively.
This relieves you from eyestrain and prevents you from hurting your finger while trying to thread! This leads to huge savings in terms of time and effort.
The result will, in turn, reflect a reduced time of completion of the project-in-hand.
#5. Stitches
Brother CS5055PRW offers an option to choose from 50 different sets of designs printed right on the machine body.
Each stitch pattern can be selected right with the click of a button and customized in length and width.
Furthermore, needle position can be varied over an appreciable range to obtain an optimal level of tension all through the stitch patterns.
This leads to the superior quality of stitch patterns, increasing the aesthetic value of your project!
#6. Buttonholes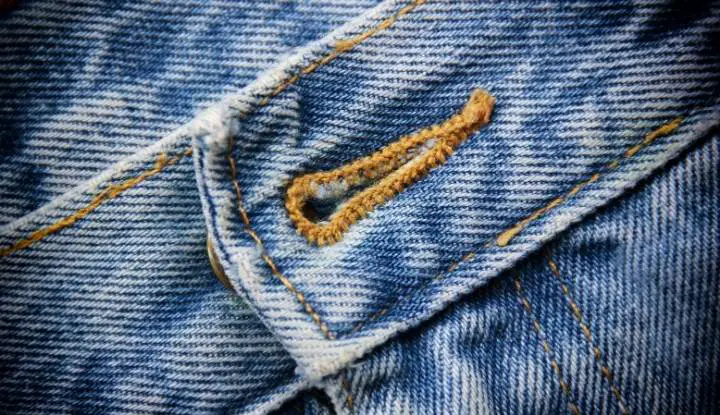 Evenly stitched, superbly finished, raw edges of buttonholes increase the style of the fabric.
Brother Project Runway CS5055PRW offers you an easy way to accomplish this as it has five one-step built-in custom-sized buttonholes.
This significantly eases your work and adds a new value to your professionalism.
This feature's importance becomes more pronounced while dealing with a heavy workload that needs completion within a short period.
#7. Feed Dogs
Brother CS5055PRW imbibes an extraordinary feed dog system that helps in smooth cloth feeding. This helps in maintaining evenly spaced stitches all along the path creating superior quality design patterns.
Nevertheless, you can even freely drop these feed dogs while practicing free-motion stitching.
This equips you to provide full justice to your creativity, rendering novel designs while sewing a quilt or creating decorative items.
#8. Thread Cutter
The thread cutter is located at the left rear side of the machine body and aids you cut the needle threads at ease. In Brother CS5055PRW, there is no automatic thread cutter.
Nevertheless, the manual thread cutter is positioned at a suitable position and is easily accessible, making the user overlook the former disadvantage.
However, if you are an advanced sewer who is habitually addicted to using an automatic needle cutter, it would be better to switch the machine!
#9. Vertical Spool Pin
This sewing machine is equipped with a vertical spool pin, a common feature found in more expensive machines.
The vertical spool pin feeds the thread more consistently than the horizontal system.
The feature is particularly attractive as it imparts Brother Project Runway CS5055PRW to better handle stitching with specialty threads, including the metallic ones.
The resulting versatility helps you to create unique, eye-catchy designs.
#10. LCD Display
Brother CS5055PRW has an intuitive LCD panel that helps in visualizing the selection made. The digital display is crystal clear and eye-soothing.
It displays information on the type of stitch selected and the length and the width associated. LCD panel even guides you to the presser foot that is most appropriate for the stitch type chosen.
Nevertheless, this LCD panel is not back-lit, making it difficult to be seen in the dim light environment.
#11. Stitch Chart
All the built-in stitch patterns are printed on the front right side of the machine body in dark blue against a light blue background.
This provides an overview of all the available patterns right at one glance. Every stitch pattern supported by Brother Project Runway CS5055PRW is provided with a dedicated number at their top.
The desired pattern can be chosen easily and quickly by pressing the associated number using the push button on the stitch chart's right side.
#12. LED Light
Brother CS5055PRW is fitted with a LED light near the needle spreading light near the workspace. This aids in sewing in dimly lit spaces and while dealing with dark-colored fabrics.
Adequate lit workspace gives you a clearer vision of your stitch patterns and facilitates easy stitch tracking, allowing you to concentrate on minor details at great ease.
Nevertheless, the light is not very bright and might strain your eyes when used for long.
#13. Presser Feet
This model offers a collection of 6 different types of presser feet meant for dedicated functionalities. This includes the foot meant for overcasting, blind stitch, monogramming, zipping, button sewing, and buttonholing.
This feature is beneficial when designing attractive high standard designs with a superior finish.
Furthermore, Brother Project Runway CS5055PRW even houses a foot controller pedal that facilitates quick working.
Check the price of Brother CS5055PRW on Amazon.
Brother CS5055PRW Accessories
Brother Project Runway CS5055PRW is supplied with a large package of accessories. This aids you to set up the machine easily and quickly, enabling a kick-start for your project. These include
Three bobbins
3-piece needle set
Ball-point needle
Extra spool pin
Seam ripper
Cleaning brush
Foot controller pedal
Screwdriver
Bilingual (English and Spanish) Instruction manual
Quick-start guide
Twin needle
Brother CS5055PRW Alternatives
Brother CS5055PRW, like any other machine, is bound by both pros and cons. After reading through the article, if you find any desired feature missing, you can look for other alternatives.
Two of the similar machines with different features are mentioned below for your reference: Brother CS6000i and Juki TL-2000Qi.
Brother CS6000i is more beginner-friendly and slightly heavy than Brother Project Runway CS5055PRW. It is featured by 60 stitches, an easy-to-read LCD stitch selector, automatic needle threader, and bobbin winder.
This model has a larger free arm and a large table than Brother CS5055PRW, making the former more ideal for quilting than the latter.
Furthermore, Brother CS6000i even has a speed selector dial, unlike Brother CS5055PRW, which easily chooses the desired stitching speed.
However, its LED brightness and heavy-duty performance are comparable to that of Brother CS5055PRW. Read the full review here.
Juki TL-2000Qi is built with a strong motor, a long arm that creates more workspace, and a brighter LED-lit area than that in Brother CS5055PRW.
This makes Juki TL-2000Qi more suitable for quilting-like large projects than the Brother machine. It is featured by automatic bobbin winder, needle threader, single-foot speed changer, and thread tension dial.
However, it is not very user-friendly, lacks versatility in stitch type, is devoid of computerization ability, has a larger footprint, and is much heavier.
This makes it less famous amongst the group of sewers, particularly looking for the portability factor. Read the full review here.
FAQs:
#1. Can I Import Designs?
No, you cannot import designs into Brother Project Runway CS5055PRW.
This model lacks the computer interfacing feature and cannot work in conjunction with any plug-in devices like the memory stick or hard disk.
#2. Can I Manipulate the Stitches?
Yes, you can manipulate the parameters of the built-in stitch types.
Desired stitch patterns can be chosen from the stitch chart displayed on the machine's body and customized according to their length and width.
#3. Can I Sew Leather or Denim with Brother Project Runway CS5055PRW?
Yes, leather and denim can be sewn by using Brother Project Runway CS5055PRW.
However, this demands an appropriate type of needle and a change of setting to obtain the required string tension.
#4. Can I Do Overlocking or Serging with This Model?
No, Brother Project Runway CS5055PRW does not support overlocking or serging functionalities. So, if you are looking for a perfect finish with a stylish look, then it's time to change your model!
#5. Is There Speed Control on This Sewing Machine?
Brother CS5055PRW is equipped with a foot pedal that helps you to change the speed of stitching. However, there are no additional means of control options, unlike in other models fitted with a speed controller dial.
#6. Can You Set the Machine to Stop In the Down Needle Position?
Yes, you can set the Brother Project Runway CS5055PRW to stop in the down needle position. This is the default setting and helps you conveniently maintain the fabric's desired position, especially while stitching around the corners.
#7. Can I Use Brother CS5055PRW for Embroidery or Monogramming?
No, Brother CS5055PRW cannot be used for embroidery or monogramming. This model lacks the in-built stitches necessary to accomplish these tasks, and there is no provision to import them through any other means.
#8. Can I Sew Blind Hem Stitch?
Yes, you can sew blind hems for pants and skirts using Brother Project Runway CS5055PRW. Apart from blind hem stitch, it also offers a blind stitch foot option that makes 'hardly visible' stitches on the fabric when woven with matching threads.
Check the price of Brother CS5055PRW on Amazon.
Read Also: